Media

Charity Event of the Year 2013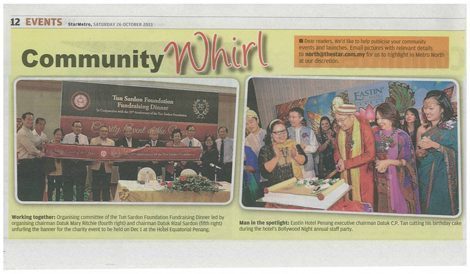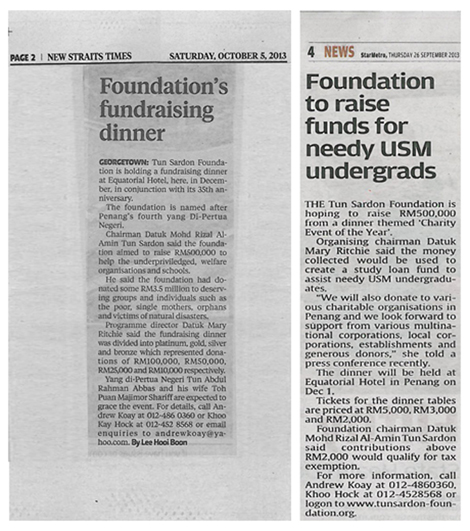 Phua Chu Kang For A Night Of Hilarious Comedy & Charity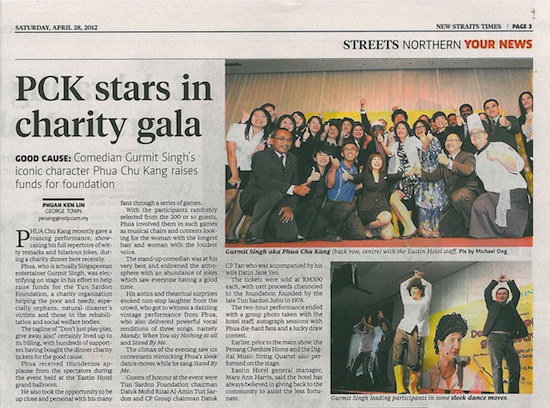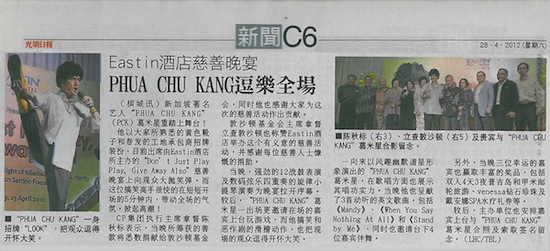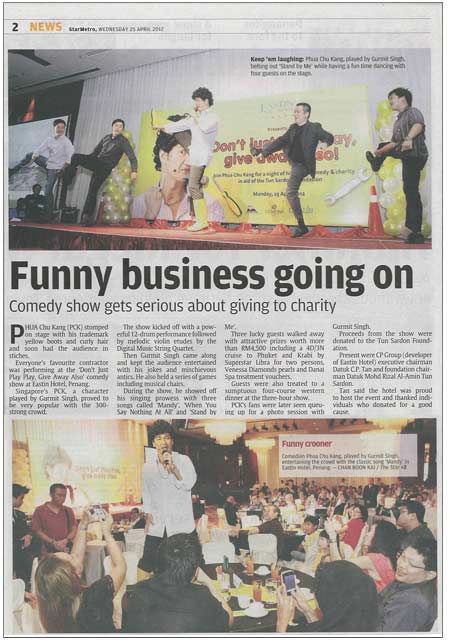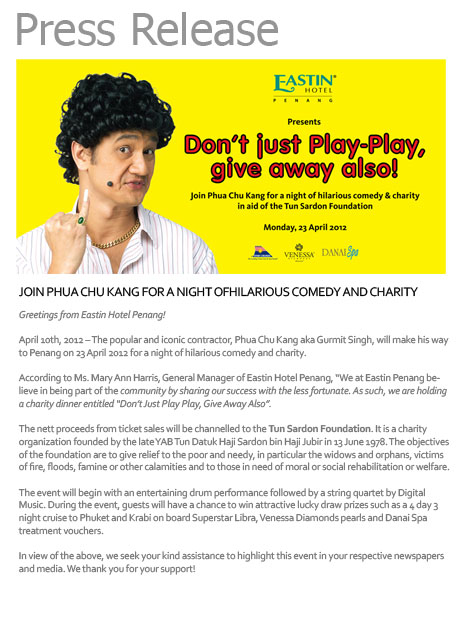 1 Malaysia NGO Charity Bowling 2011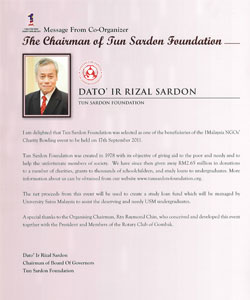 Message from Dato' Ir Rizal Sardon
I am delighted that Tun Sardon Foundation was selected as one of the beneficiaries of the 1Malaysia NGOs' Charity Bowling event to be held on 17th September 2011.
Tun Sardon Foundation was created in 1978 with its objective of giving aid to the poor and needy and to help the unfortunate members of society. We have since then given away RM2.65 _on in donations to a number of charities, grants to thousands of schoolchildren, and study loans to undergraduates. More information about us can he obtained from our website www.tunsardon-foundation.org.
The net proceeds from this event will be used to create a study loan fund which will be managed by University Sains Malaysia to assist the deserving and needy USM undergraduates…read more
Sambutan 50 Tahun Kemerdekaan & Majlis Harijadi TYT Yang Dipertua Negeri Pulau Pinang 24 Ogos
The Need For A Caring Society In Nation Building. 3rd August 2009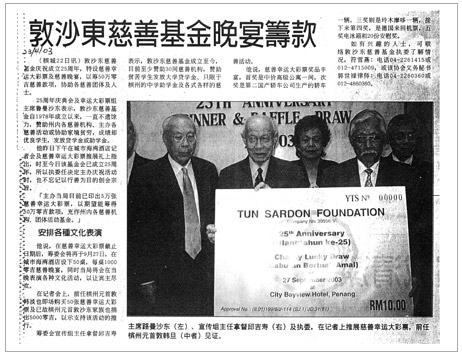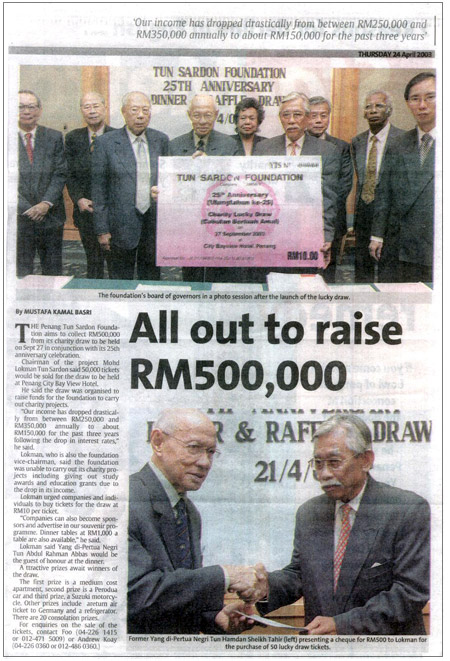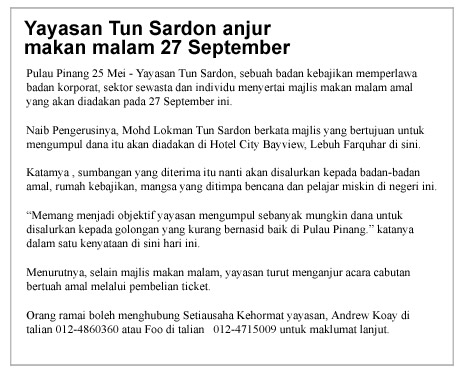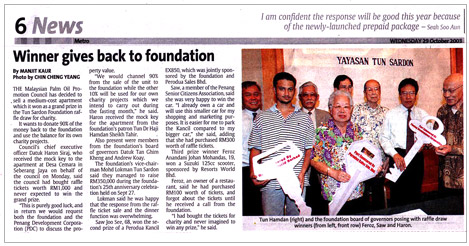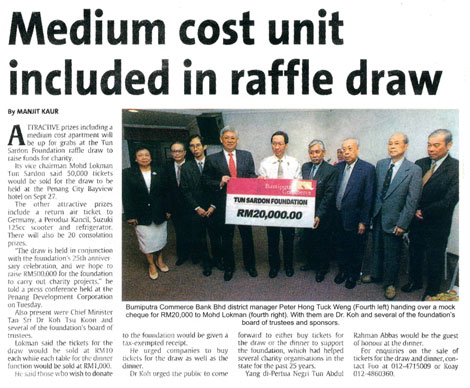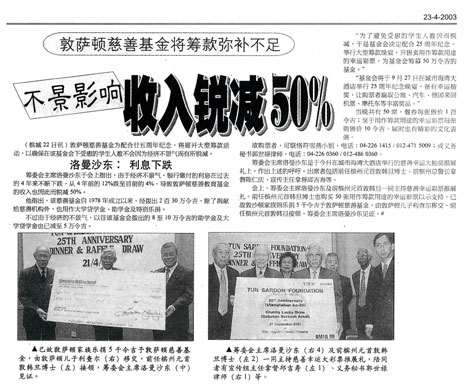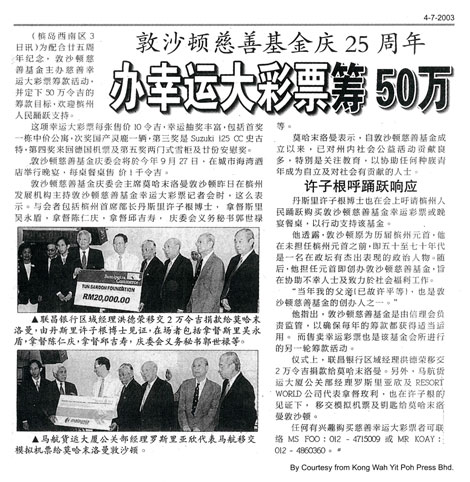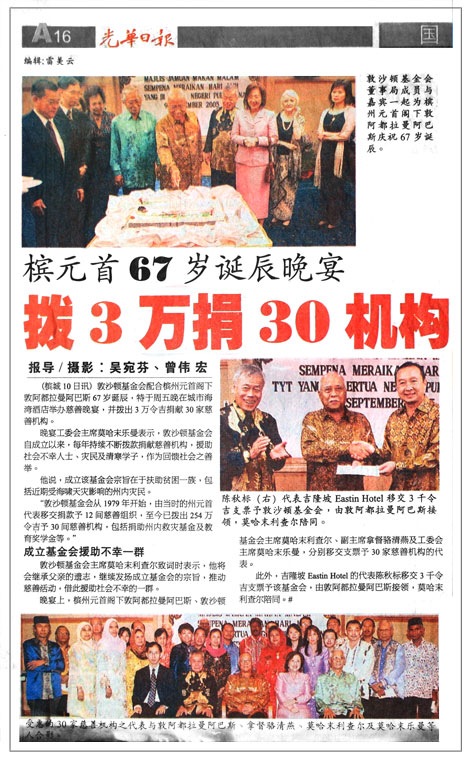 Thursday, February 27, 2003 . Star Newspaper
Study grants and awards
The Tun Sardon Foundation is offering university study awards and educational grants to needy students for the academic year of 2003.
The university students are  from selected institution(s) of higher learning that the Foundation have identified and at the absolute discretion of the Board.
Educational grants are offered on the recommendation of the school principals to needy students in primary and secondary schools in Penang.
Last year, a total of RM43,190 was given out to to 1,030 students from 113 schools.
Application forms for the awards and grants can be obtained from the foundation's office at Suite 123-K 2nd Floor, Wisma Lister Garden in Macalister Road.
Postal requests for the study award forms must be accompanied by a stamped self-addressed envelope (23cm X 30cm) and completed forms must reach the foundation by June 13.
For details, call 04-2294060.
Star 04 th July 2003 Medium cost unit included in raffle draw
ATTRACTIVE prizes including a medium cost apartment will be up for grabs at the Tun Sardon Foundation raffle draw to raise funds for charity.
Its vice chairman Mohd Lokman Tun Sardon said 50,000 tickets would be sold for the draw to be held at the Penang City Bayview hotel on Sept 27.
The other attractive prizes include a return air ticket to Germany , a Perodua Kancil, Suzuki 125cc scooter and refrigerator. There will also be 20 consolation prizes.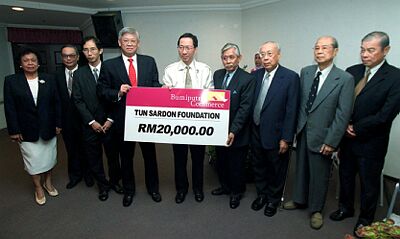 Bumiputra Commerce Bank Bhd district manager Peter Hong Tuck Weng(fourth left)handing over a mock cheque for R20,000 to Mohd Lokman(fourth right).With them are Dr Koh and several of the foundation's board of trustees and sponsors
"The draw is held in conjunction with the foundation's 25th anniversary celebration, and we hope to raise RM500,000 for the foundation to carry out charity projects," he told a press conference held at the Penang Development Corporation on Tuesday.
Also present were Chief Minister Tan Sri Dr Koh Tsu Koon and several of the foundation's board of trustees.
Lokman said the tickets for the draw would be sold at RM10 each while each table for the dinner function would be sold at RM1,000.
He said those who wish to donate to the foundation would be given a tax-exempted receipt. He urged companies to buy tickets for the draw as well as the dinner.
Dr Koh urged the public to come forward to either buy tickets for the draw or the dinner to support the foundation, which had helped several charity organisations in the state for the past 25 years.Yang di-Pertua Negri Tun Abdul Rahman Abbas would be the guest of honour at the dinner.
For enquiries on the sale of tickets for the draw and dinner, contact Foo at 012-4715009 or Koay 012-4860360.